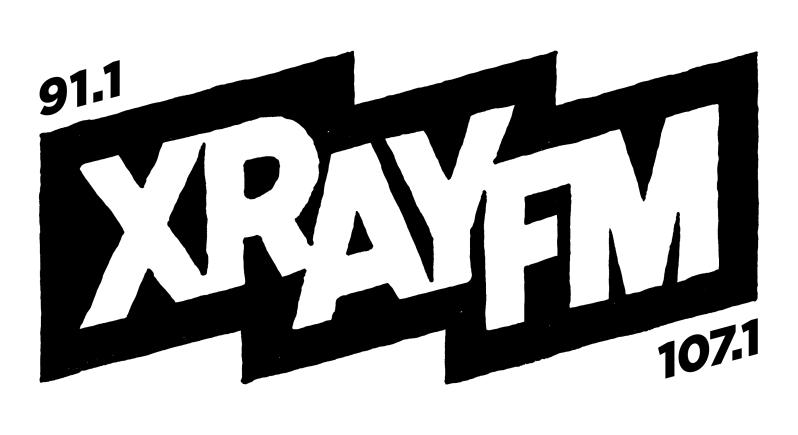 DJ Bob Ham/Double Bummer Spring 2021 XRAY Fundraiser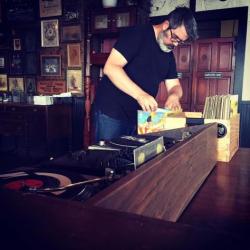 Radio has always been a lifeline for me. As an alienated lad growing up in a variety of small towns around the U.S. in the pre-broadband era, it was radio that connected me to the world at large - sounds I'd never heard, ideas I'd never contemplated, and important news and issues of the day. Though all of that is now a few keystrokes and mouseclicks away, I still find myself returning to radio on a regular basis, especially when seeking out new music or to hear old favorites in a fresh context.
It might be a trite idea, but living as we do in the TMI Age, it can be extremely difficult to cut through the chatter and find the gems within the deluge of sounds and playlists that flood the internet every minute. That's why the on air community at XRAY is so important to me and why I'm so honored to be part of it. No matter how much I think I know about a genre or an artist or a label, some DJ or program on XRAY will surprise and enlighten me. And inspire me to keep digging. To keep listening. And I love the thought that I'm doing that for some listener out there in the world with my show Double Bummer.
We all want to keep surprising and enlightening and entertaining anyone who tunes in to the station but we can't do it without the support of folks like you. Become a member of XRAY today, or if you are already a member, please consider renewing or increasing your donation. I've set a humble goal of $1,000 for this membership drive - and I think you can help me get there well before this fund drive is over. Help keep XRAY thriving and giving voice to the best music, the most enlightened news and podcast programming, and underserved communities in Portland.
ABOUT 2021 Spring Fund Drive Peer 2 Peer
You've counted on the people behind XRAY for so much this past year. Whether it was for entertainment, distraction, information, or just some live human connection when social distancing hit the hardest: we've been here for you.

As we enter the next chapter of our story, build up our community of leaders and changemakers, and forge a path towards a big future for purpose-driven media, we need your help. We need YOU to help us reflect who the people of our city are. We need YOU to build our community up to come out of this pandemic stronger. We need YOU to bring the next generation of leaders to the airwaves.

You've counted on us to make it through this year. Can we count on you to help write our next chapter?
Supporters
Name
Date
Amount
Comments
Michael Gamble
05/10/2021
$10.61
Congrats XRAY // Bob Ham thanks for reminding me to donate:)
Bob Ham
05/01/2021
$20.65
Lisa Schonberg
05/01/2021
$10.00
Nate Sirotta
04/30/2021
$51.80
Thanks for all you do!
Ben Parrish
04/30/2021
$10.00
Beau Sorenson
04/30/2021
$10.00
Arya Imig
04/30/2021
$21.00
Rock on
Daniel Schultz
04/30/2021
$20.00
Chris Jones
04/30/2021
$10.61
Aris Wales
04/30/2021
$20.00
Stephanie W
04/30/2021
$25.03
Libby Cudmore
04/29/2021
$10.00
Andrew Neerman
04/29/2021
$50.00
♥♥♥
Susan Miller-Josselyn
04/29/2021
$26.06
Ian Youngstrom
04/27/2021
$15.76
Keep on doin' the do, Robert.
Mark Lore
04/27/2021
$20.91
???
Patricia Wolf
04/27/2021
$20.00
Thank you for the wonderful work you do for the music community in Portland and beyond. Love, Patricia
Carlo Pearson
04/27/2021
$77.55
Glenn Sogge
04/27/2021
$10.00
Dustin Krcatovich
04/25/2021
$31.20
Hiram Lucke
04/25/2021
$25.00
Matthew Merewitz
04/24/2021
$51.80
Thanks for everything you do for the music scene, Bob!
Megan Mitchell
04/24/2021
$20.00
Nick Bruno
04/23/2021
$20.00
Anonymous Friend
04/23/2021
$20.91
Reed Wallsmith
04/22/2021
$41.50
Thank you for all you do, Robert!!!!!
Ryan Prado
04/22/2021
$26.06
Let's start a band
Cord Amato
04/22/2021
$50.00
Thank you Double Bummer, Hot Fudge Sundaze, Melted Radio...the list goes on!!! X-RAY is our mainstay.
James Deeley
04/22/2021
$20.91
Ryan Matheson
04/22/2021
$50.00
Get yourself some Hot Stampers.
Patrick Bryant
04/21/2021
$100.00
Honored to support the criminal defense relief fund of Bobert (aka Bobbola) Ham
Ben Salmon
04/21/2021
$41.50
Support independent radio!
Michael Donaldson
04/21/2021
$20.98
?
Bret Saunders
04/21/2021
$25.00
Nathan Walker
04/20/2021
$20.00
What up Bob!
Evan Larson
04/20/2021
$41.50
Keep up the great work, Richard!
Jesse Von Doom
04/20/2021
$26.06
Allysen Callery
04/20/2021
$10.61
Ripley Moon Duo Johnson
04/20/2021
$25.00
Christian Puffer
04/20/2021
$20.00
Mike Hogan
04/20/2021
$41.50
Heck to the yeah!
Dustin Guy
04/19/2021
$50.00
\m/(>.<)\m/
Carol Ham
04/19/2021
$51.80
Ben Goldberg
04/19/2021
$10.00
Andrew Weathers
04/19/2021
$10.61
Cheryl Pawelski
04/19/2021
$50.00
Patrick Satterfield
04/19/2021
$50.00
Steve Westbrook
04/19/2021
$26.06
Tim McGonagle
04/17/2021
$20.00
Play more Rush.
Rob Mitchum
04/17/2021
$20.00
Braxeling Records
04/17/2021
$20.00
Like Bob Ham, he loved the weather
Jacob Nierenberg
04/16/2021
$40.00
Abbey Simmons
04/16/2021
$20.91
Matthew Byars
04/16/2021
$20.91
George Middlebrooks
04/16/2021
$33.33
?❤️?
Anonymous Friend
04/15/2021
$26.06
Ryan White
04/15/2021
$41.94
Joshua Moss
04/15/2021
$10.00
Thanks for the great show Bob!
Evan Davies
04/15/2021
$20.91
Freeform radio forever!
Zach Schonfeld
04/15/2021
$20.00
Andy Grogan
04/15/2021
$7.00
Anonymous Friend
04/15/2021
$20.91
Sarah Wilkes
04/15/2021
$20.00
Kelli Hughes-Ham
04/15/2021
$51.80
Anonymous Friend
04/14/2021
$10.61
Total
$1,822.36
Report Abuse
Edit My Page